A Night With Kizey
November 1, 2019 @ 6:00 pm

-

9:00 pm

$50.00
Event Navigation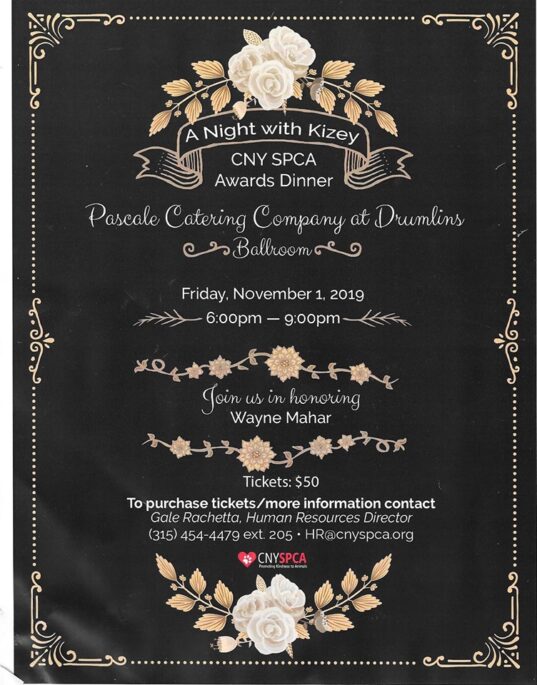 Who is Kizey?
For 126 years a cast iron Newfoundland statue has stood as sentinel in front of the CNY SPCA; first at the original shelter on West Belden Ave and then in 1955 when we moved to our current location on 5878 E. Molloy Rd.
The statue is believed to have come from the Salina Street gardens of Milton S. Price, Syracuse's first "merchant prince", of the 1880's. Price passed away in 1889, two years before the CNY SPCA was incorporated, and nine years before the dog would end up in front of our very first shelter.
For 83 years, the 600 pound statue remained nameless known only as "The Dog". Since all of the animals in our shelter are given a name, it just didn't seem right that the one who stood outside our doors for all of those years didn't have one. In 1991, in celebration of the CNY SPCA's centennial anniversary, the shelter sponsored a "Name that dog contest" throughout area elementary schools.
There were many creative entries, but in the end, the name that suited our dog and most accurately described the statue's place in our history and future was submitted by Vance Woods, a sixth grade student from Liverpool Elementary School.
Vance's suggestion was to name the dog KIZEY, and told us the name came from Africa and meant "Stay Put". He chose that name he said because he wanted the CNY SPCA to always be there to help animals. Vance wrote, "The CNY SPCA takes care of the dogs like they are humans and humans need love, comfort, a place to live and food to eat, and so does Kizey and her family. When I say her family I mean that because the other dogs are a part of her life and without her the CNY SPCA's life wouldn't be the same for you or me."
When it came time to put a name on the award that honors an individual or group whose exceptional efforts have supported, protected and served the animals in our community, we didn't need a contest; we already had a perfect name: KIZEY